All extra toppings are as follows:
9" .99     12" 1.29    14" 1.69   
Chicago Style Pizza

Medium12''- 10.99 / Large 14''- 12.99

Succulent shrimp, crab and scallops. Served with your choice of pesto,Garlic Butter or Alfredo sauce

9.99 
Stromboli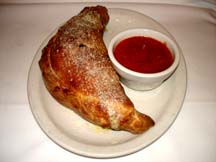 Our famous pizza pocket stuffed with mozzarella cheese and our special pizza sauce.
(c) Uccello's Wayland/Uccello'sway.com all rights reserved.